Your In-Terminal Hotel at Daxing Airport
What's more convenient than an inside-the-airport lodge option, especially if you have a long waiting time between flights? The Plaza Premium Group is fully aware of the travelers' need to relax and recharge their batteries. Therefore, the leading association provides unbeatable airport accommodation and transit hotel services all over the world. The last milestone of the company is the opening of the Aerotel Beijing which is the brand-new in-terminal hotel located at Daxing airport.
Where is Aerotel Beijing in Daxing Airport?
The new hotel of Daxing airport covers a huge 9.000 square area on the northeast side of the terminal building. Extended on two floors, Aerotel Beijing is the biggest inside-the-airport hotel in China and is also considered one of the biggest globally. 
If you have reached Daxing airport from Beijing city, you will find the hotel at the first level of the northeast airport pier while if you have just landed or checked-in at Capital's new airport, you should head to the second floor of the northeast terminal side. In any case, the hotel is located a 10-minutes-walk from the international check-in area and only 5-minutes away from the domestic one.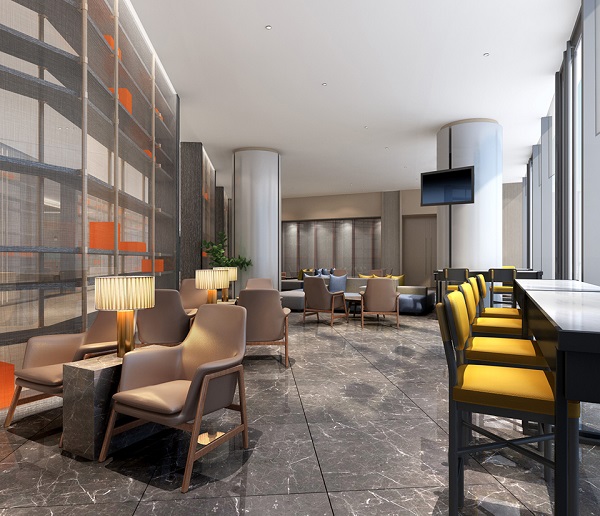 Aerotel Beijing Facilities and Amenities
No matter what you are looking for, one thing is certain: You will find it in Aerotel Beijing! The airport hotel has 215 rooms of all types and categories such as standard, superior, deluxe and family rooms. All rooms are fully equipped and guarantee the travelers' convenience. Free and fast Wi-Fi, IPTV, high-flow shower and even a wide variety of pillow options are some of the benefits the hotel's customers enjoy during their stay.
Moreover, the hotel offers a 24/7 Library Lounge catering for up to 192 guests. In the Library Lounge, you can savor a buffet meal or a sit-down dinner. In either case, the menu, consisting of both international and local dishes, is varied and inviting.  However, you should always keep in mind that breakfast is served from 6:00am to 9:00am and lunch from 11:00am to 2:00pm while you can have your dinner from 5:30pm to 10:00pm. In the meantime, you can always relish a choice from the snack menu.
In addition, the hotel's facilities include an around-the-clock Fitness Center and a Game-Room. Make the most of your free time exercising, relaxing or even playing billiards with your friends. On the other hand, if your journey is business-related or if you want to host a social gathering, you will be glad to know that Aerotel Beijing is the first Aerotel transit hotel that provides guests with 3 meeting rooms. Xijin House, Jibei House and Guji House (which is actually a VIP room) are labelled after ancient Daxing names, outfitted with world-class audiovisual systems and can host up to 36 people.
Photo credits: myaerotel
Check-in at Aerotel Beijing
Aerotel Beijing offers 24/7 check-in. Hence, regardless of the time or day, you can walk up to the in-terminal hotel, book a room and enjoy your stay hassle-free. Furthermore, although it is possible to make a day rate reservation, hourly rate bookings are also available with a minimum 3-hour stay.
Note: As Daxing Airport has only recently opened, Aerotel Beijing offers up to 20% discount for the first three months if you make your reservation 7 days or more in advance.